What is Niacin?
Niacin (or vitamin B3) is a form of vitamin B not only generated by the body, but also found in numerous food items. Vitamin B plays an important role in the conversion of food to energy. On top of that, it also helps to maintain skin health, digestive health and the health of the nervous system. The more B3 your body has, the easier it is to control bad cholesterol levels. Proper levels of niacin also lower risk for various cardiovascular problems. Niacin is a water-soluble vitamin that is available in many forms such as niacin pills, inositol hexanicotinate and nicotinamide. You can increase your intake of niacin by adding vitamin B3 foods to your diet or by taking vitamins and supplements that contain the B3 complex (x).
Food Sources of Niacin
Niacin is present in many everyday foods — namely nuts, legumes, poultry, fish and meat. Less commonly consumed but still high in B3 content are energy drinks.
Liver is the top choice for natural niacin. An 85-gram serving of beef liver has 90 percent of the recommended daily amount. Chicken liver is also a great source, containing 70 percent of the recommended daily amount you should consume.
An 85-gram serving of boneless chicken breast will provide 70 percent of the recommended daily amount while 156 grams of light tuna will offer more than 100 percent of the recommended daily amount.
Turkey will also give you a healthy dose of tryptophan, which converts into B3 inside the body. Three ounces of turkey breast will cover 45 percent of your recommended daily amount while three ounces of wild salmon will offer up to 54 percent.
Moreover, 85 grams of pork has a whopping 6 mg of niacin (40 percent of your daily recommended intake) while 85 grams of lean ground beef will net you the same results (x, x, x).
Some other healthy sources of natural niacin are as follows:
Peanut butter, 32 grams = 25 percent of the RDA
A medium avocado = 21 percent of the RDA
Brown rice, 195 grams = 18 percent of the RDA
Whole wheat = 15 percent of the RDA
Mushrooms = 19 percent of the RDA
Green Peas, 1 cup = 16 percent of the RDA
Niacin Benefits
Niacin has a range of benefits when taken as a supplement. It can boost brain function, relieve arthritis and even lower cholesterol.
Lowers Cholesterol
Niacin is available in prescription form and as over the counter vitamins and supplements that are used to help reduce bad cholesterol levels in the body. It helps to reduce LDL levels by as much as 20 percent when taken as part of a cholesterol treatment regimen. The other side of taking B3 to lower LDL levels is that it increases HDL levels at the same time. HDL is the good form of cholesterol your body needs to fuel your organs (x).
Lowers Triglycerides
Niacin supplements have been proven to lower triglycerides from between 20 to 45 percent by stopping the enzyme in the body that is responsible for synthesizing triglycerides. As a result, the amount of lipoprotein and LDL production decreases, which helps users to maintain healthy levels (x).
Atherosclerosis Treatment
Taking a B3 supplement will help control your bad cholesterol. In turn, this will help prevent the onset of heart disease. Niacin helps to decrease the amount of inflammation and oxidative stress that results in the hardening of arteries. When niacin therapy is paired with statin therapy, the risk of heart disease is even further decreased (x, x).
Treats Type 1 Diabetes
There are several forms of diabetes and many ways to manage or prevent each from occurring. When taken in supplement form, niacin can help protect the insulin forming cells in your pancreas. The same supplement has also been proven to reduce the risk of type 1 diabetes in children who are at risk of developing the autoimmune disease. Those suffering from type 2 diabetes should take niacin with caution since it may increase blood sugar levels (x).
Pellagra Treatment
In most modern countries, it's rare to see deficiency since there is often a surplus of vitamin B3 foods. But those suffering from Hartnup disease, anorexia or alcoholism tend to be more vulnerable to a deficiency. People suffering from a severe deficiency of niacin will likely develop pellagra. Taking niacin pills is an effective treatment to cure this deficiency. A proper diet of foods high in niacin is essential to maintain proper levels in the blood and prevent a reoccurrence of the condition (x).
Improves Brain & Skin Function
B3 is an essential nutrient that allows your brain and nervous system to function properly. Brain fog and several other psychiatric issues can be linked directly to lower amounts of niacin in the body. Diets that include foods high in niacin or B3 supplements have been known to help reverse the damage brain cells receive due to a lack of proper levels of niacin. B3 is also known to help keep your skin cells safe from damage caused by the sun when taken orally or applied topically.
High dose niacin pills, particularly nicotinamide, have been shown to reduce the chance of contracting certain skin cancers in people who are at higher risk (x, x).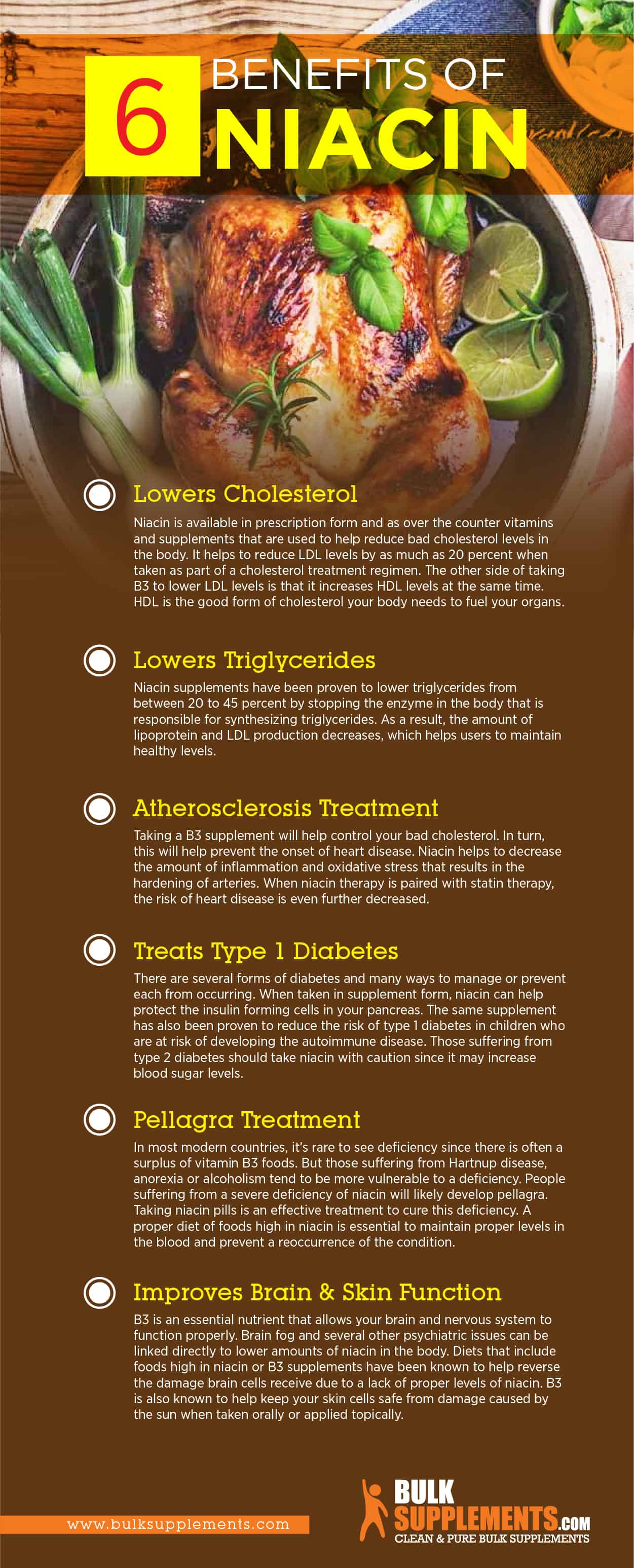 Niacin Side Effects
B3 is found naturally in many of the foods you consume on a regular basis. It isn't possible to suffer from a niacin overdose when the extra amounts are obtained from those natural food sources. Some common, but generally mild side effects of prescription strength Niacin supplements are:
Niacin Flushing
Supplements that contain nicotinic acid are known to cause niacin flush on the chest, face and neck. This is generally mild and is caused by dilation of the blood vessels. Those who experience niacin flush may also feel a sensation of burning or tingling as well. In rare cases, these sensations can become painful (x, x).
Liver Damage
Extra niacin obtained from food sources are easily processed and broken down. However, long-term, high-dosage uses of B3 supplements for the treatment or maintenance of cholesterol levels may result in damage to the liver. This is most commonly found when nicotinic acid is taken in a slow release form, but it can also be seen with rapid action supplements as well (x).
Gastrointestinal Problems
Mild signs of upset stomach such as vomiting and irritation are common when taking a B3 or nicotinic acid supplement that is slow release. This is caused in part by the elevated amount of liver enzymes that are released into the bloodstream (x).
Glucose Intolerance
B3 supplements are known to help prevent type 1 diabetes in children as well as help repair the cells that regulate insulin. However, long-term use of high dosages of niacin supplements can impair blood sugar control. It can cause problems for those who already have type 2 diabetes or adults who are at risk of contracting type 2 diabetes (x).
Gout & Blurred Vision
Those who take B3 supplements may on rare occasion become afflicted with blurred vision or dizziness. Niacin also raises the levels of uric acid in the body, which can lead to gout if left unchecked (x, x).
Other Precautions
Niacin supplements should be avoided if you are pregnant or nursing. Those suffering from low blood pressure, peptic ulcers, diabetes or liver disease should speak with their healthcare provider prior to starting a niacin supplement regimen.
Niacin Supplement Dosage and Instructions
Serving Size & Timing For Niacin Vitamin B3 Powder
It is best to take 100 mg (scant 1/16 tsp) to 500 mg (scant 1/4 tsp) per day, or as directed by a physician. A serving size of about 1/8 tsp equals roughly 275 mg. If taken along with a meal, this supplement may potentially reduce stomach discomfort (x).
For flush-free niacin (inositol nicotinate) powder, take 625 mg (scant 1/4 tsp) daily, or as directed by a physician. Individual needs may vary.
Why Take Niacin
Niacin is an essential nutrient that allows your body to function like a well-oiled machine. Most people are able to get enough B3 from their regular diet.
Niacin is a common treatment for cholesterol and helps to reduce the hardening of arteries in some patients. People who are sensitive to statins but are at risk of developing heart disease may benefit from a niacin supplement regime. You can choose to incorporate more natural sources of niacin into your regular diet, or you can opt to add a supplement, which will give you higher doses over a shorter time period. B3 has also long been hailed as an effective detox treatment thanks in part to the "niacin flush" most experience shortly after taking a high dose. Niacin helps the blood dilate, flushing toxins out while also warming the body, which helps get rid of dead cells and unwelcome elements from the bloodstream.
These supplements also encourage healthy mucous membranes, skin function and encourage proper nervous system function. This allows your body to break down glucose more efficiently, which has an overall positive impact on one's health.
The Bottom Line
Niacin is an essential vitamin that also serves as a natural antioxidant in the body. It allows your body to signal cell and DNA repair. When your body is facing a deficiency, you may notice an increase in skin problems, a loss of mental clarity and poor digestion. Everyone needs a different amount of niacin in their diet, and that need is determined by gender and age. In general, women should get 14 mg daily and men should get 16 mg daily for optimal function. Therapeutic dosages to treat the heart or to manage cholesterol should always be taken under the care of a healthcare professional, especially if you currently have diabetes or a disease that affects your liver.
Niacin supplements are generally very safe when taken as directed and can help manage cholesterol far more efficiently than simply dieting alone.