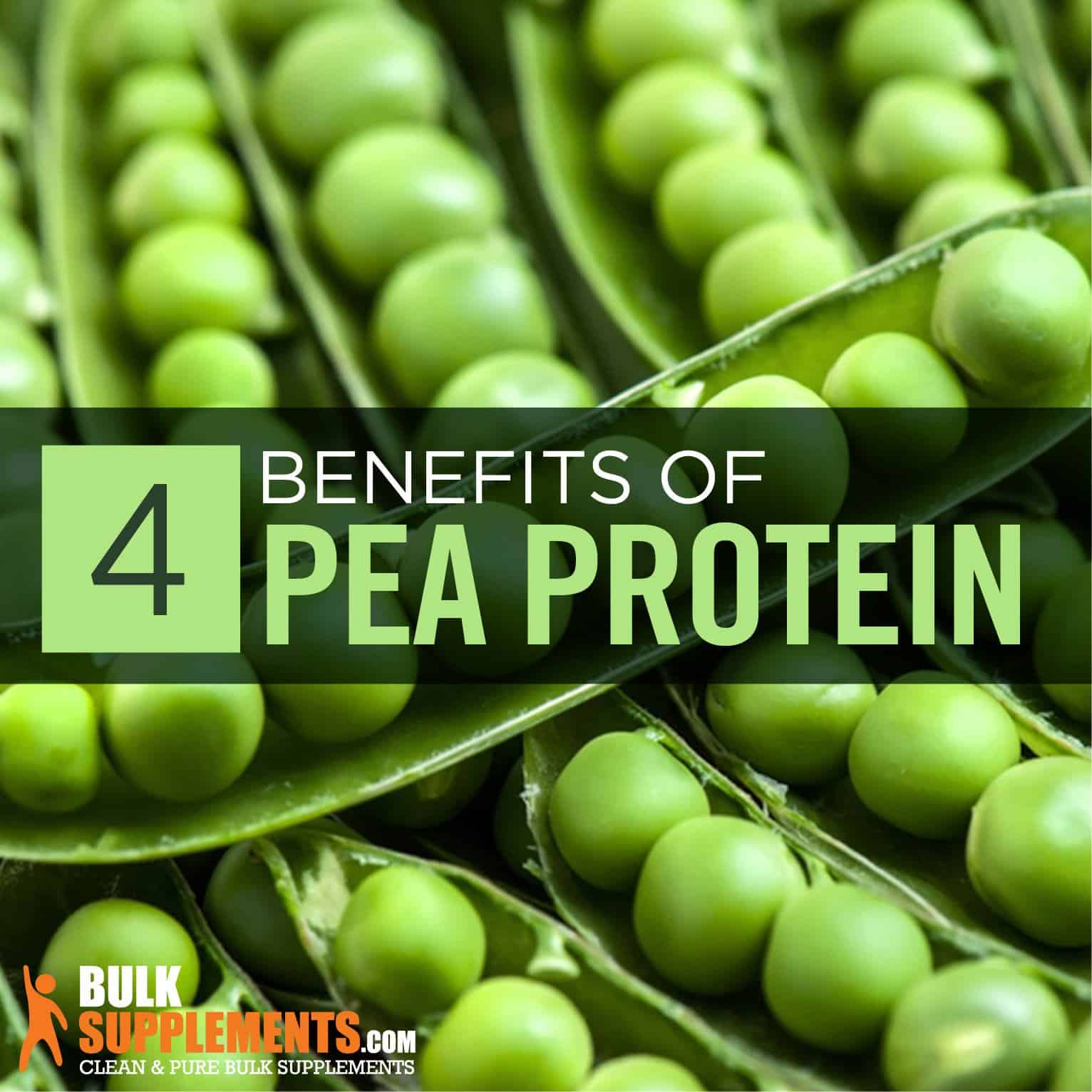 What is Pea Protein?
Pea protein is exactly what you think it is. Protein from peas! But the question is, is a pea really that protein-packed and powerful? The short answer is yes, it is! Pea protein is quickly becoming a favorite for gym goers even more so than whey, hemp and other protein powders. Pea protein is dairy free, gluten free and excellent on the kidneys, heart and waistline.
When it comes to protein powder, whey, brown rice and soy typically take the lead, but pea protein is growing in popularity. It is a veggie protein powder and is the most hypoallergenic option. It has fewer side effects and more benefits than other proteins.
We all try to mind our peas and Q's by maintaining a healthy, balanced diet. However, sometimes getting all the fruit and veggies we need just seems impossible. Pea protein, though, is an excellent way to sprinkle a little bit of nutrition into your life. It is 100 percent pure and comes directly from the pea. Peas are ground into a powder, and then the starch and fiber are removed so all that remains is a concentrated pea protein.
How Much Protein is in a Pea?
A pea is likely one of the smallest vegetables you can think of, which is why it's so surprising to be used for protein. A cup of whole green peas has 8 grams of protein (x). Believe it or not, you can find 24 grams of protein, 120 calories, 2 grams of fat, and 1 gram of carbohydrates in one 33-gram scoop of pea protein. As if that isn't enough, pea protein is also an excellent source of iron and calcium. Be careful of sodium levels, however. Some brands of protein powder are high in sodium (this, of course, takes away all of the previous benefits). Stay away from those brands.
Other Facts
Pea protein is unique, but it is still in the shadows of other protein powders. Here are 12 pea protein characteristics to keep in mind:
It has lysine — your other protein powder probably doesn't
It's allergen-free
That includes gluten-free
No upset stomach — this protein is easy going down
It has plant-based iron like none other
It is considered a low glycemic food
It's easy on the carbs
It's high in branch chain amino acids (BCAAs)
Plenty of arginine
It's FODMAP friendly, which means it's easy on your bowels
Not just protein, magnesium too
No cholesterol and no saturated fat
Pea Protein Benefits
Muscle Growth
If there is one thing that pea protein can do, it's build muscle. In fact, it can build muscle faster than other protein powders. One study compares pea protein to whey protein and a placebo. It was concluded that consuming pea protein leads to a greater increase in muscle thickness compared to both whey and the placebo (x). This was especially true for those starting or returning to muscle strengthening. Overall, pea protein was concluded to be an excellent substitute for whey protein and various other proteins.
Vegan Protein
Even if you're not a vegan, you want vegan protein powder. Vegan means no dairy, no gluten and no allergens whatsoever, and all the plant power you need. Studies show that pea protein has vegan mycoprotein, which can enhance the protein and energy that most people lack in their daily diet (x).
Other Benefits and Uses
There are several less researched uses of pea protein, but may very well offer some significant benefits to the body.
Heart Health
Studies have shown that pea protein can reduce risk factors for heart disease, such as high cholesterol in animals (x, x). After only three weeks, pea protein hydrolysate has been shown to significantly lower blood pressure (x). Specifically, 3 grams of pea protein per day can lower blood pressure significantly (x).
Keeps You Full
Unlike other protein powders and carbs or fats, pea protein keeps you fuller longer. This helps with weight loss by reducing overall calorie intake (x). A study by the British Journal of Nutrition showed that taking 20 grams of pea protein 30 minutes before eating can reduce calorie intake by 12 percent (x). Overall, pea protein is enough protein to increase feelings of fullness after meals.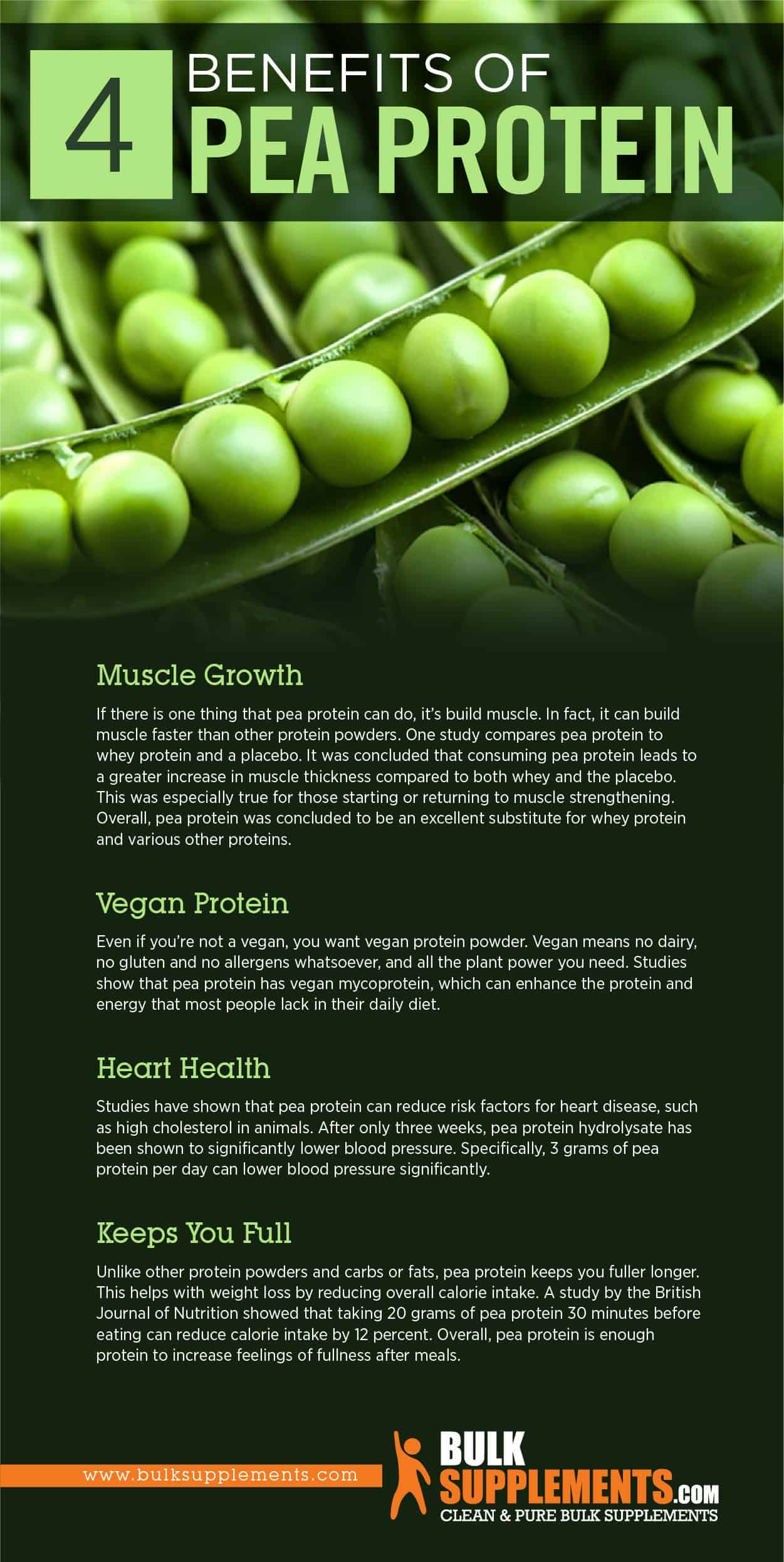 Pea Protein Side Effects
High in Sodium
Pea protein is generally low in side effects, but it is rather high in sodium. For a sodium-restricted diet, and even for a typical diet, this may be too much sodium. On the other hand, pea protein is low in fiber and does not cause bloating or flatulence like other protein powders.
Other Side Effects and Warnings
If you do not exercise regularly, taking pea protein may actually cause weight gain. This is because consuming pea protein alone, despite its ability to keep you full, may also increase the number of calories you consume. Eating protein without exercising typically induces weight gain.
Another minor side effect of pea protein, like all protein powders, is its ability to hinder kidney health. Consuming too much protein is thought to impair kidney function, and possibly lead to kidney disease (x).
Lastly, joint pain is a potential side effect of protein powders. Specifically if you have gout, taking pea protein is not recommended. It may increase the amount of uric acid in your blood, therefore causing your gout to flare up (x).
Pea Protein Dosage
If you're looking to increase your protein intake, especially for body builders or older adults, pea protein is exactly what you are looking for.
When supplementing with pea protein powder, take 30 grams (5 tablespoons) with food or 8 oz of water or juice. Of course, be sure to speak with a medical professional before adding this supplement to your regimen. If they suggest an alternative dosage, it is best to follow their instructions.
For best results, you should take pea protein within two hours of exercising. Take pea protein in any of the following methods:
Stir into oatmeal (rice pudding or similar)
Add to baked goods (muffins, pancakes, etc.)
Whisk into plant-based milk
Blend into a smoothie
Place blended pea protein into frozen popsicle molds
The Bottom Line
The only thing better than protein is veggie-based protein; it's like killing two birds with one stone. You get both your protein and your veggies. Even if you're not the biggest fan of peas themselves, pea protein can be masked into any flavor, food or beverage, and you still get all of its benefits. Build muscle and feel full, without the heavy side effects of other proteins. Pea protein is growing in popularity, and for good reason.