Motherwort Extract: Benefits, Side Effect & Dosage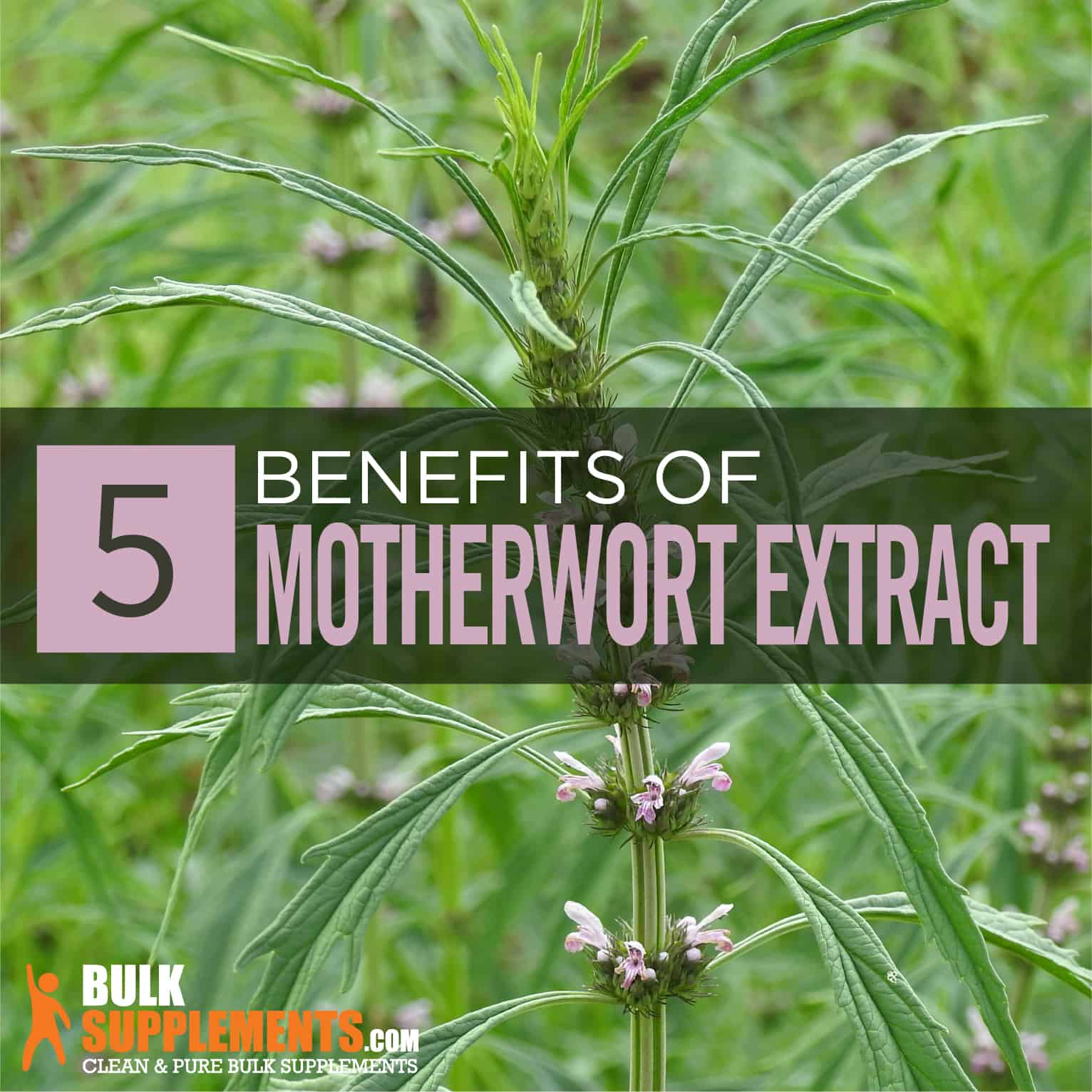 What is Motherwort?
The Latin name for motherwort is Leonurus cardiaca, which translates to "Lion's Heart." It gets this name from its traditional use with issues related to the heart and blood circulation. Motherwort is also used to balance hormones, soothe nerves and help alleviate postpartum depression. In traditional Chinese medicine, it's used for cramps, swelling and blood diseases. Legend has it that the town which drank water that ran through banks of motherwort had residents who lived for 130 years.
Motherwort extract contains many bioactive compounds including flavonoids, volatile oils and terpenes. People take motherwort as a supplement because of its anti-inflammatory and antioxidant properties that can benefit the body and mind. The extract has a bitter flavor, which some find too strong to consume on its own. It can be blended with other herbs and ingredients and taken in capsules or as a tea (x).
Motherwort Benefits
Calms Anxiety
Anxiety can describe a wide range of symptoms with varying degrees of intensity. Anxiety is defined as "an emotion characterized by feelings of tension, worried thoughts and physical change like blood pressure," as stated by the American Psychological Association. It's normal to feel nervous, scared or anxious in some situations, but when these feelings cause physical symptoms like raised blood pressure, hyperventilation and nausea, among others, it may be time to address it.
Motherwort is a soothing herb that can be used to calm an overly anxious mind. A recent study suggests that motherwort extract can significantly help reduce the symptoms of anxiety. Patients in the study reported an improved mental and emotional status, and many were able to improve their quality of sleep (x).
Depression Relief
Depression, like other neurological disorders, can stem from a dysfunction in the GABA neurotransmitter system. In a similar way to how motherwort extract can help relieve anxiety, it works with neurotransmitters to help balance mood (x).
Studies also show that motherwort extract reduces the neutrophils that can accumulate in the brain. Neutrophils are part of the immune system and are essential for healing. However, they can also occur in increased levels in the brains of people with depression, indicating a form of inflammation in the brain. If not addressed, this can lead to persisting and worsening depression over time. By decreasing neutrophils and inflammation in the brain, motherwort supports brain health and mood stability (x, x).
Reduces PMS Symptoms
Motherwort is beneficial for women who have difficulty around the time of their menstrual cycle. PMS can include symptoms that severely interrupt a woman's life such as cramps, constipation, mood instability and bloating. Some women have to stay in bed for several days at a time because the symptoms can be so debilitating. Dramatically shifting hormones is a major cause of PMS.
Luckily, Mother Nature provided motherwort. It's one of the most common herbal remedies for relief of multiple PMS symptoms. Motherwort extract doesn't specifically reduce pain. Instead, it helps to balance hormones and reduce oxidative stress during this time. As a result, symptoms can be less severe and resolve faster (x).
Regulates Blood Pressure
Hypertension, or elevated blood pressure, is a significant health issue. High blood pressure increases the risk of heart attack, stroke and other cardiovascular issues. Since hypertension is so common worldwide, a natural, accessible and economical option to help reduce this risk factor can benefit many people.
How does motherwort extract work to support healthy blood pressure? It can help to relax artery walls, allowing blood to flow more easily. It also acts to thin the blood so it can pass through blood vessels more easily. In places where modern medicine is unavailable, motherwort is a go-to remedy for hypertension (x, x).
Motherwort supplementation may be a worthwhile consideration for those with high blood pressure. Even though it's a common and effective way to support healthy blood pressure, it's important to speak with a healthcare professional before adding motherwort extract to the diet or changing medications.
Decreases Bleeding Associated with Childbirth
Blood loss during birth and from cesarean section is historically a leading cause of debility and death for new mothers. In keeping with motherwort extract's ability to help with many things related to the blood, researchers set out to investigate if it could help women at risk for excessive bleeding following a cesarean section.
In a randomly controlled trial, adding motherwort extract to the new mother's therapy significantly reduced blood loss from the cesarean surgery. Researchers weren't sure exactly why it was effective, but the extract showed important potential to help new mothers stay healthier and recover faster after the birth of their child (x).

Did You Know?
Motherwort is in the mint family of herbs, and it grows in what botanists call poor soil. Today, motherwort occupies vacant fields, the sides of roads and rivers and neglected areas. It's considered an invasive species because it's so hardy and can take over an area quickly. While it might take over a garden, it's a plant that bees love, so keeping it around is a benefit for both humans and the environment. Motherwort came from southeastern Europe and central Asia and spread widely due to its traditional medical applications.
The aerial parts of the motherwort plant hold the beneficial ingredients. The active ingredients are most concentrated when motherwort is in bloom, so the flowers are harvested when they are most beautiful. There are beneficial nutrients in the stems and leaves of the top third of the plant, so these are harvested at the same time. These parts of the motherwort plant are gently dried and finely ground, and it's from this powder that the extract is made.
Motherwort Extract Dosage and Side Effects
For most people, there are no side effects or issues with toxicity when taking motherwort extract. Reported side effects include (x):
Gastrointestinal issues including stomach pain, cramping and diarrhea
Drowsiness
Sudden drop in blood pressure
Those who are pregnant or breastfeeding should not take motherwort. This herb is classified as an emmenagogue, which can stimulate contractions and uterine clearing.
It's important to check with a healthcare provider before using motherwort if you're taking medications, especially those for blood pressure or mental health.
Motherwort extract powder tends to be bitter and has a strong, earthy scent. For this reason, many people choose to fill capsules with the extract to avoid the taste. It can be made into a tea and taken on its own, or can combined with other herbs and flavorings like honey or lemon. You can also add it to smoothies, juices or even soups or stews. Some people make a tincture out of motherwort extract so they can use only a few drops of liquid for their daily dose.
The Bottom Line
Motherwort extract is a soothing, calming herb that is safe for most people to take on a daily basis. Women who have challenging PMS symptoms can experience some relief during this time from motherwort use. Those who have blood pressure or circulation problems can also see improvements. And with the increasing number of people who struggle with anxiety and depression, motherwort extract may be a natural way to support emotional wellness.