What is Fenugreek?
Fenugreek is commonly used to spice savory, traditional Indian-style dishes. However, it is a powerful herb with well known medicinal properties. This Mediterranean plant, widely grown in India, Egypt and Middle Eastern countries, contains pods that golden seeds that offer a mildly sweet, nutty taste.
In ancient cultures, fenugreek was cultivated for medicinal purposes. Throughout history, it has been used to induce labor, resolve digestive issues and aid in the healing of wounds. Today, it's a popular remedy for managing glucose, improving sex drive, promoting lactation for breastfeeding mothers, and helping to treat various health conditions.
A potent source phytonutrients
Scientific studies have shown that the seeds have antioxidant, anti-carcinogenic, anti-diabetic and anti-inflammatory properties. They have shown promise in helping with athletic training, cholesterol control, weight loss, and PMS. Moreover, some claims even maintain that fenugreek can combat baldness and dandruff.
So what are the benefits of taking Fenugreek? Are there any side effects? Where can you find it?
FENUGREEK BENEFITS
Fights Diabetes
Fenugreek appears to help regulate blood sugar levels. Those with type 2 diabetes don't absorb glucose as they should from the bloodstream. When glucose is not used as energy, it builds up in the bloodstream. As a result, blood sugar levels rise. Luckily, fenugreek helps to lower blood sugar levels and improves insulin resistance within the body's cells, thereby improving its insulin sensitivity (x) (x).
Increases Breast Milk Production
The most crucial time for breastfeeding mothers is the first few weeks after birth. Colostrum, recognized as a baby's first vaccine, contains high amounts of immunoglobulins to makeup for a baby's immature immune system. Fenugreek could enhance breast milk production. (x) Furthermore, milk production may continue even if fenugreek is no longer taken. (x)
Increases Sex Drive
Fenugreek was proven to boost sexual desire. The results of one study showed a significant increase in both men and women who consumed fenugreek on a regular basis. (x) (x) The increase in sexual drive was attributed to saponins contained in fenugreek seeds, which are compounds that stimulate the production of male sex hormones.

Fights Disease
We all know that consuming greater amounts of antioxidant-rich foods help to protect against diseases. Our bodies do not produce the amount of antioxidants required to protect us from harmful free radicals, and additional sources are welcome. (x).
As a rich source of antioxidants, fenugreek contains powerful free radical scavenging properties. (x) In fact, it contains higher antioxidant values than other foods like spinach, strawberries, and plums (x). Fenugreek contains protein, vitamin C, niacin, potassium, and diosgenin, a compound that has similar properties to estrogen (x)As a matter of fact, it is one of the richest sources of selenium, which supports the activity of antioxidants and enhances their effectiveness.
Heals wounds
Fenugreek is rich in nutrients that maintain skin elasticity and fatty acids that build collagen. When applied to a wound, it releases anti-inflammatory properties that build collagen and enhance the healing process. (x).
Fights Cancer
This natural spice may have powerful anti-cancer properties. When studied on a cellular level, Fenugreek inhibited the growth of certain cancer cells. The results of this particular study indicate that the presence of fenugreek may fight the growth of some types of cancer (x).
Lowers Cholesterol
Research has shown that fenugreek may help to lower the production of bad cholesterol, and increase the production of good cholesterol (HDL) (x). High in soluble fiber, fenugreek seeds contain compounds that inhibit cholesterol absorption in the intestines and cholesterol production by the liver.
Supports Weight Loss
Due to its high dietary fiber content, it is believed to promote weight loss. The results of a recent study suggest that fenugreek could limit weight gain and decrease fat intake (x). Other studies have resulted in significant weight loss of obese patients who did not change any part of their diet or exercise regimen (x).
Creates Stronger Athletes
Fenugreek powder has been proven to assist with inflammation, recovery after exercise and increase strength. One study determined that the combination of fenugreek and creatine supplementation increased upper body strength and significantly improved body composition (x) (x).
Post-workout, athletes experience faster recovery if they can rapidly refuel their glycogen stores. As glucose flows into the bloodstream it provides the body with basic fuel. Insulin transfers glucose into cells, which oxidized and used for energy. Fenugreek brings blood sugar levels down and helps with the recovery of glycogen stores more quickly after exercise (x).
Decreases Menstrual Pain
Menstruation can cause discomfort, abdominal pain, headaches, nausea, fatigue and reduced energy. Cramps, in particular, are caused by uterine contractions and can be quite severe. Fenugreek can relieve the discomfort associated with menstruation. In fact, it is still a common remedy for dysmenorrhea in Egypt today. (x). Fenugreek introduced to women experiencing menopause symptoms resulted in the reduction of hot flashes or eliminated them all together (x).
Helps Hair
Fenugreek oil purportedly cures dandruff, spurs hair growth and strengthens existing hair follicles, all of which help fight baldness. There are additional claims that the mucilage released from hydrating fenugreek powder can increase the shine of hair and is an excellent conditioner (x).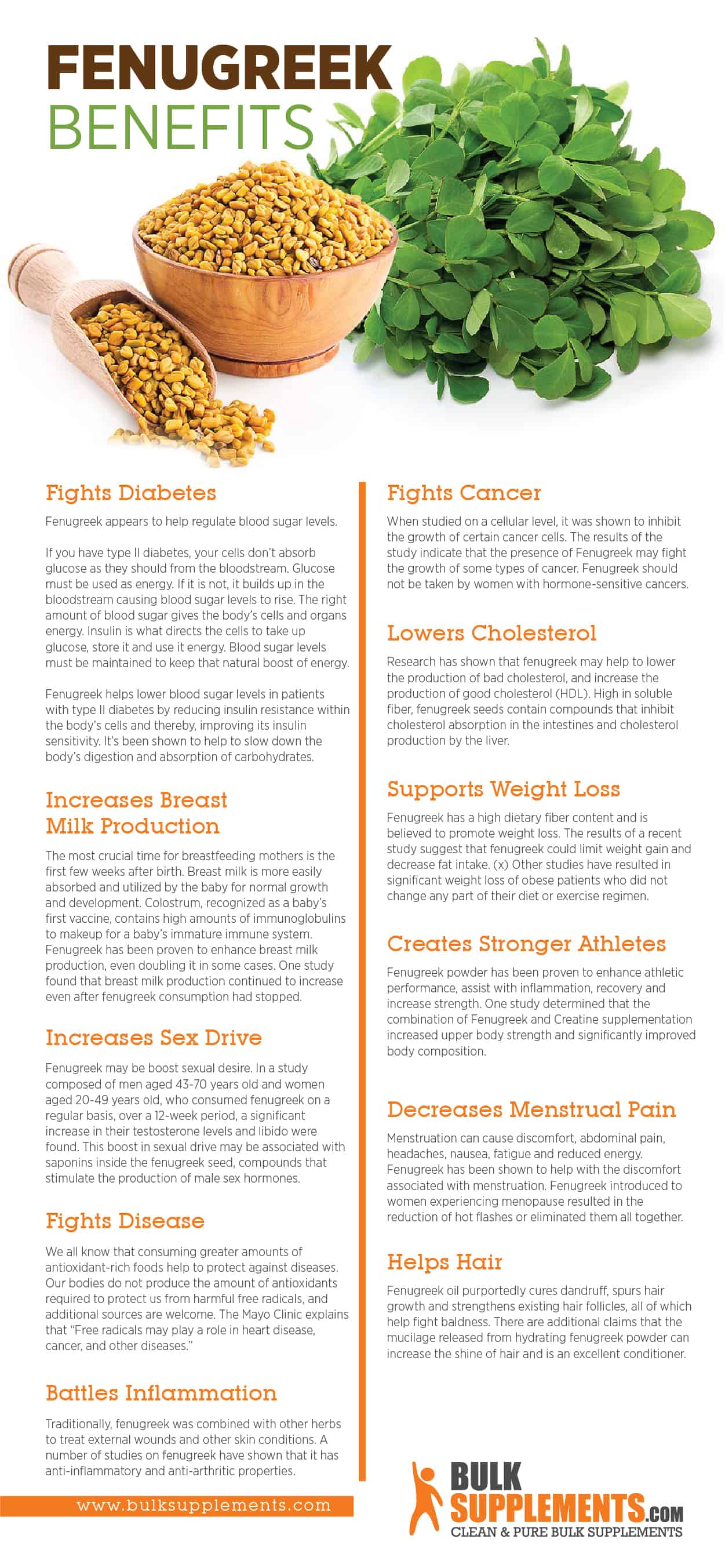 FOOD AND FENUGREEK
The scientific name for the fenugreek plant is trigonella foenum-graecum. The native herb comes from the Mediterranean, southern Europe and western Asia.
Fenugreek can be found in many South Asian and Indian dishes. It is best known for its use in curry powder and its distinct flavor. The seeds are traditionally used as a spice for meat dishes and stews.
Loaded with nutrients, including thiamine, vitamin K, and vitamin C, you may find fenugreek seed extract in many anti-aging products, cosmetics and facial cleansers.
The nutritional value of just one tablespoon of fenugreek includes:
2.7 grams of dietary fiber (11 percent daily value)
2.5 grams of protein (5 percent daily value)
3.7 milligrams of iron (20 percent daily value)
15 milligrams of phytosterols
FENUGREEK SIDE EFFECTS AND DOSAGE
The fenugreek dietary supplement offers many health benefits. BulkSupplements.com recommends the following dosage:
1,000 mg (about ½ tsp) up to three times daily or as directed by a physician.
US Standard Measuring Spoons
Spoon Size(level)
milligrams
1/2 teaspoon
1000
1 teaspoon
2000
1 1/2 teaspoon
2500
SIDE EFFECTS
Indeed, fenugreek is considered an alternative treatment for various health conditions. On the other hand, it can have potentially serious side effects. People with underlying bleeding disorders should not take fenugreek without obtaining their doctor's approval since it may increase the risk of bleeding. Pregnant women should not take Fenugreek since it has the same effect as oxytocin and may induce contractions.
The most common fenugreek side effect is a distinctive smell. Individuals consuming it may find their sweat, urine, and breast milk smell like maple syrup (x). Other possible side effects are diarrhea, flatulence, and dizziness (x).
Individuals who should no take Fenugreek include:
Pregnant women. Avoid this supplement if you are pregnant. It can induce contractions and labor prematurely (x).
Individuals with hormone-sensitive cancers.
Individuals with diabetes who have not consulted their physician first. Fenugreek should not take the place of medications used to treat diabetes.
Individuals with allergies to green peas, soybeans, chickpeas (x) and peanuts (x).
THE BOTTOM LINE
Fenugreek packs a powerful punch. It has proven to contain anti-inflammatory, anti-carcinogenic, anti-diabetic and antioxidant properties; moreover, it has proven to help lower cholesterol, support weight loss and enhance athletic and sexual performance.
**The statements in this article have not been evaluated by the FDA. They are not intended to diagnose, treat, cure, or prevent disease.