7 Healthy Sea Buckthorn Benefits You Need to Know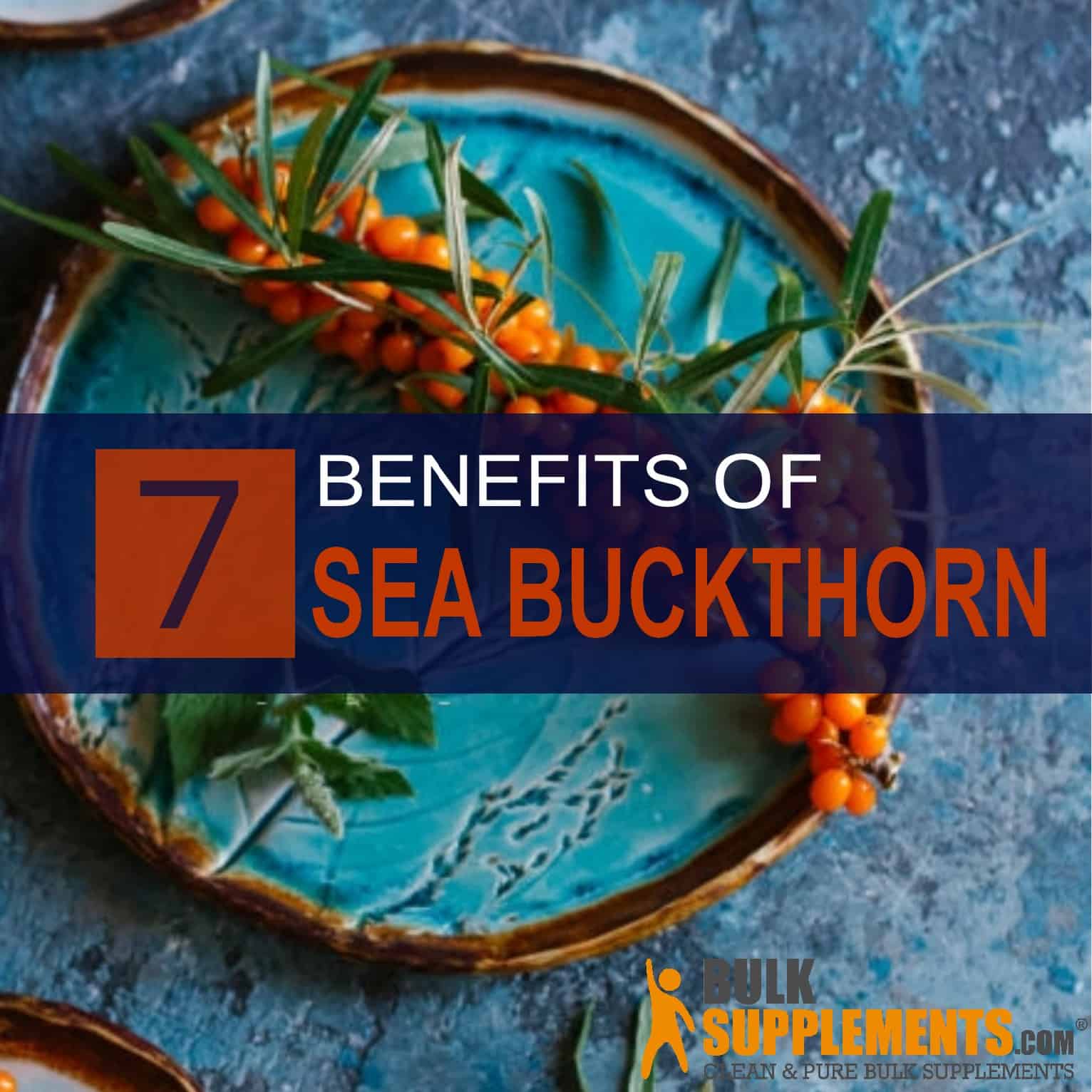 What is Sea Buckthorn?
Aside from its name, sea buckthorn, also technically called hippophae rhamnoides, has nothing to do with large bodies of water. Though the name appears to be a misnomer, you might wonder how this shrub can benefit your health.
The plant has other names such as seaberry, sallowthorn and sandthorn with a classification that involves Elaeagnaceae, known as Oleaster family, and Hippophae L. and of the Hippophae rhamnoides L. genus. (x)
Sea buckthorn grows mainly in Europe and Asia as well as subtropical climates and high elevations, with hippophae rhamnoides being the most common of the species. The extracted seeds and berries of the plant, called sea buckthorn oil, supports the skin and give internal benefits to the body. You can drink sea buckthorn as a tea or take the powder, containing health-giving bioflavonoids, though the oil is more nutritious. (x) The plant has other uses like making juices, jellies, purees, sauces and cosmetics, although the nutritional benefits of the plant may interest you the most. You should check with your doctor for accurate medical information and permission before taking sea buckthorn as a supplement.
History of the Sea Buckthorn
The medicinal benefits of using sea buckthorn oil began in Ancient Greek as a valuable healer when treating racehorses, hence the name Hippophae, meaning shiny horse. Its popularity grew and flourished down the coastal provinces of Europe and Asia, where the plant became known as a remedy for several ailments. Tibet, China and Mongolians called its healing qualities "liquid gold" and "God sent medicine."
Noted in the ancient Tibetan medicinal books from the Tang Dynasty (618 to 907) earned the claim "the Holy Fruit of the Himalayas." The ancient Ayurvedic medicine of herbal remedies mentions using the sea buckthorn oil as early as 5000 B.C. using it mostly for healing skin diseases. (x)
Sea Buckthorn Oil
Sea buckthorn oil derives from both the seeds and yellow-orange berries of the plant, giving the berry oil a reddish-orange or dark red coloring and is thicker than the seed oil. The seed oil is pale orange or yellow. Both oils have a heavy and persistent woodsy odor, but diminishes as a cosmetic.
Sea Buckthorn Nutritional Benefits
The sea buckthorn berries contain different kinds of valuable nutrients and bio-active compounds that amount to vitamins, free amino acids, fatty acids and compounds. You might even consider its classification as the all-powerful miracle oil because of its abundance of nutritional components. Food Reach International indicates the oil contains vitamins A, B1, B2, C, D, E, K and P as well as carotenoids, flavonoids, phenols, amino acids, organic acid, folic acid and 20 mineral elements. Also included are essential fatty acids. The topper of all these nutrients is the plant is the only one in the world that contains all four omegas, omega-3, omega-6, omega-7 and omega 9.  (x) (x)
 What is Sea Buckthorn Used for?
What does sea buckthorn do for the body? Department of Biotechnology at the University of Malakand studies suggests that the sea buckthorn may benefit several health-related issues such as cancer therapy, cardiovascular symptoms, digestive ulcers, topical and internal treatment and protective agents for the liver. Each condition responded positively to the therapeutic uses of sea buckthorn. (x)
Cancer Therapy
Sea Buckthorn contains significant anti-inflammatory components and displays anti-cancerous properties, according to a study released in Poultry Science. The study evaluated the liver-cleansing attributes of the sea buckthorn berries, suggesting reduced effects of aflatoxins in the liver, which can trigger liver damage and cancer. Meaning, sea buckthorn may reduce probable cancer that may arise in your liver.
Cardiovascular Therapy
If you took daily doses of sea buckthorn oil, you might prevent cardiovascular diseases like hypertension, atherosclerosis and heart attacks. A study performed on 128 patients experiencing damage or disease of the major blood vessels in the heart were administered 10 mg of sea buckthorn three times a day for six weeks. The patients experienced an improvement in cardiac function and a decrease in cholesterol levels. (x)
Treating Digestive Ulcers
Sea buckthorn seed and pulp oil proved favorable in treating gastric acid and inflammation in the digestive tract. A study of rats administered with sea buckthorn oil concluded that the plant reduced the formation of ulcers and sped up the healing process of ulcers, which proved both as a preventive and curative treatment for ulcers. (x)
Preventing and Healing Skin Diseases
Sea Buckthorn oil is one of the ingredients in sunblock because it has UV-blocking properties, including emollient activities while aiding in promoting regeneration of skin tissues. The oil also contains a component of the skin called palmitoleic acid, which is a fatty acid. It is a valuable topical agent in healing wounds and treating burns of the skin. (x) A study conducted on 16 patients for treating dermatitis of the skin (itchy inflamed skin) for four months proved positive with fatty acids stabling the skin condition. (x) A study reported in the Journal of Pharmacy & BioAllied Sciences concluded that sea buckthorn oil helps reduce excess sebum, one of the causes of acne. Over eight weeks, volunteers applied an emulsion with sea buckthorn oil. The results were conclusive. In the same study, the journal reference how it also benefits hair, which is also affected by excess sebum. (x)
Help Prevent Diabetes
Since sea buckthorn has a concentration of palmitoleic acid, it may help in the prevention of diabetes. The fatty acid acts like a hormone, regulating metabolism. Studies indicate those with high levels of palmitoleic aid in their blood are more responsive to insulin and have better cholesterol. (x) (x)
Stabilizes the Immune System
Sea buckthorn oil serves as a strong antioxidant and can help you balance your immune system and prevent infections. A study performed at the Kaunas University of Medicine in Lithuania evaluated the potency of the antioxidant activity of the oil, proving that it contained 2.4 times more carotenoids, mainly yellow fat-soluble pigments, than any other oils. Concluding that the benefits of antioxidants are incredibly high and can help prevent infection if there is exposure to bacteria or environmental hazards. (x) Adding it as a supplement to your diet may prove beneficial since antioxidants may improve your immune function by protecting the body from bacterial and viral infections as well as parasites. (x) 
Reduce Adrenal Fatigue
Omega-7s is a known source of helping those with adrenal fatigue, and sea buckthorn is a potent supply of omegas, particularly omega-7. Adding the oil to your regime may regulate your energy levels to normal. Scientific studies indicate that adrenal fatigue is related to Chronic Fatigue Syndrome (CFS) (x). A study performed at Liaoning University of Traditional Chinese Medicine proved that rats when treated with it, improve the deduction of the cells that cause CFS. (x)
Where to Buy Sea Buckthorn Supplements
You can purchase sea buckthorn supplements powder at BulkSupplements.com. The company is an industry-leading manufacturer and distributor for pure dietary supplements. BulkSupplements.com is not just a consumer brand. It also supplies pure ingredients to other food and supplement brands to make their products. All products at BulkSupplements.com are manufactured and tested according to current and proper manufacturing practices.
Are you interested in trying sea buckthorn as a dietary supplement? Contact BulkSupplements.com to place an order.
The recommended dosage of sea buckthorn powder is 5 g (2 teaspoons), one or two times a day, or as suggested by a physician. It would help if you saw a doctor for diagnoses, accurate medical information, and permission before taking any supplements.
What are the Side Effects of Sea Buckthorn?
Sea buckthorn is predominately safe to use, but if you are pregnant or breastfeeding, it is best to avoid the supplement, even though there are no indications it is not good for an unborn or breastfeeding baby. If you are taking any medication or have a disease, take precautions and talk with your doctor before using it on your skin or in your diet. Most likely, you might want to avoid it completely. Reportedly, it slows blood clotting and increases bleeding and bruising for individuals who have bleeding disorders. Also, the supplement lowers blood pressure and may trigger a too low of a dip if you have low blood pressure. Another precaution to consider is to avoid using it two weeks before any scheduled surgery because the supplement may cause increased bleeding during surgery.
Bottom Line
Sea buckthorn benefits cover a large spectrum, but the main focus is on cancer and heart disease treatment and prevention, with a strong emphasis on treating the skin as well. The side effects are minimal, paying particular attention to avoid using sea buckthorn if you have blood pressure issues or have scheduled surgery. Patients expecting a baby or breasting may want to use caution or avoid using the wonder oil.
***The Food and Drug Administration has not evaluated these statements. These products have no intention to diagnose, treat, cure, or prevent any disease.