What is Pygeum Africanum Extract?
These days, people all around the world use supplements such as Pygeum africanum (P. africanum) extract to improve health (x). Derived from the bark of an African evergreen tree, this herbal supplement may help you improve your urinary tract health and boost your libido, among many other things.
Many have used this extract since ancient times, and today many tribes in South Africa boil P. africanum bark to make tea. The extract made its first appearance in Europe in the 1960s when many began using it to treat enlarged prostates (x).
So why is P. africanum so popular, and how can it help you improve your overall health? Here, we'll learn more about P. africanum extract by looking at its key benefits, proper dosage and side effects.
Pygeum Africanum Extract Benefits
Due to its natural anti-inflammatory properties, this extract may help improve many different health conditions:
Benign Prostatic Hyperplasia (BPH)
This extract may help patients with BPH treat their symptoms, especially those associated with the lower urinary tract (x). This condition generally affects older men, over 50. Its symptoms include frequent urination and frequent urination at night, pain, inflammation and incontinence. A study published in the Cochrane Database of Systematic Reviews in 2002 determined that P. africanum improved BPH symptoms in male study participants (x).
Prostate Cancer
P. africanum extract may also help reduce the risk of developing prostate cancer. Various studies have examined the biological effects of this extract. A study published in the journal Endocrine found that P. africanum inhibited the growth of prostate cancer cells in both in vitro and in vivo trials (x). This study concluded that P. africanum extract may be a useful supplement to take to prevent prostate cancer.
Sex Drive Problems
Some men with prostate issues may experience decreased libido, which can negatively impact their relationships. Since this extract can help alleviate prostate issues, it may also help increase libido in these men (x).
Inflammation
P. africanum may help ease inflammation. According to Michigan Medicine, this extract may help patients with BPH manage inflammation (x).
Malaria & Stomach Pains
Traditionally, healers in Africa have used this extract to treat stomach pain and malaria (x, x), though further studies are necessary to determine its efficacy in treating these conditions.
These are some of the many benefits P. africanum extract may offer. As a herbal remedy, it may provide a safe, effective and simple solution to help ease symptoms or boost prevention when it comes to health problems such as these.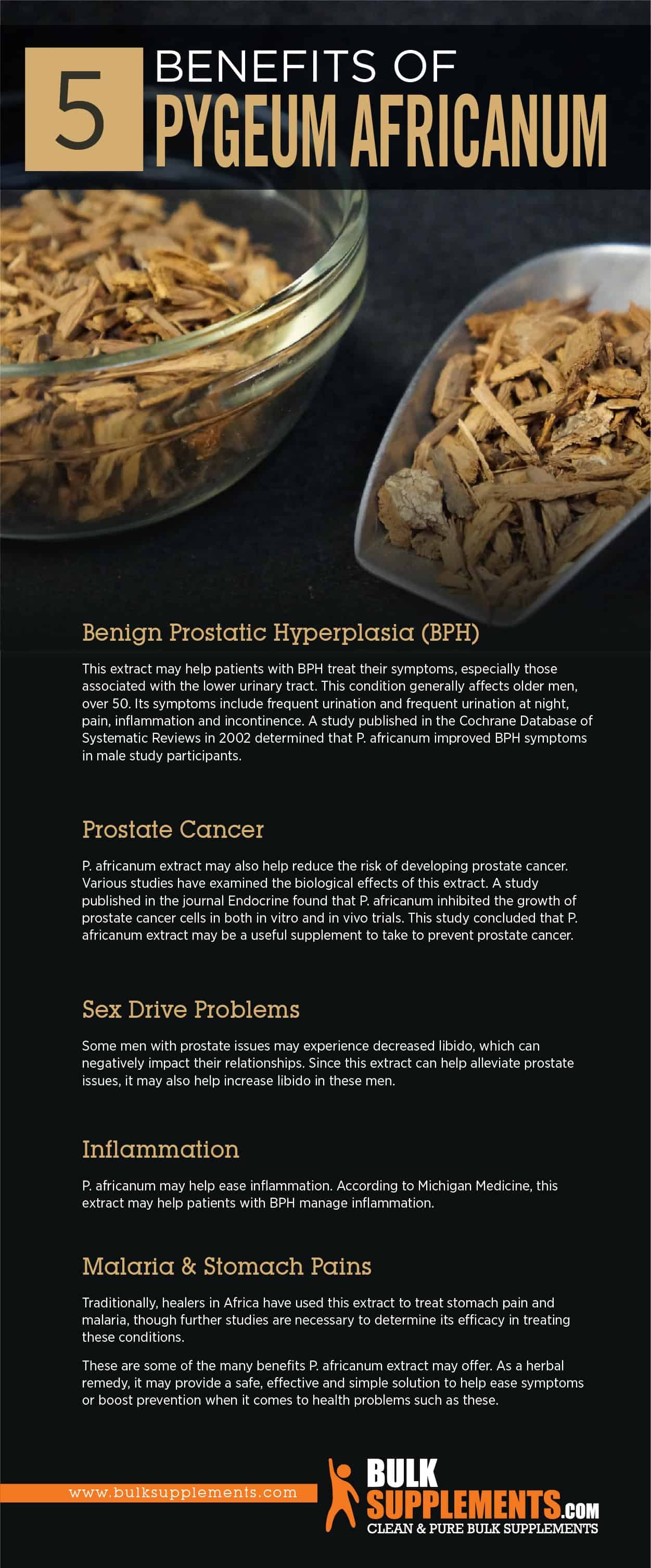 Pygeum Africanum Extract Side Effects
P. africanum extract may have a few side effects. It's important to familiarize yourself with them so you can make an informed choice as to whether this supplement is the right option for you. Some of P. africanum's possible side effects include (x):
Stomach upsets
Abdominal pain
If you experience side effects, reduce your dose or stop taking the supplement. In addition, if you are already on medication or suffer from long-term health issues, you should talk to your doctor before using this or any other health supplement.
You may not experience these side effects. Regardless, you should keep them in mind when taking this supplement. Do not take P. africanum extract if you are breastfeeding or pregnant, and you should not give it to children.
Pygeum Africanum Extract Dosage
This supplement is available in various forms, including powder form. When supplementing with Pygeum africanum extract powder, take 100 mg once or twice daily with a meal. Be sure to speak to a medical professional before adding this supplement to your regimen.
Why Take Pygeum Africanum Extract?
This supplement is easy to add to your daily routine. When you lead a busy life, you don't want fussy solutions to boost your health; this supplement is all no-fuss. Just follow the instructions provided on the packaging to start improving your health.
The fact that many tribes in South Africa have used this herb since ancient times and continue to do so gives many users confidence about its capabilities.
The Bottom Line
P. africanum extract is a popular African remedy, used for centuries in traditional medicine. Today, many around the world continue to swear by it. As long as you're aware of its side effects, you may reap its reported benefits as well.
It's important to reiterate that you should not take this supplement if you're pregnant or breastfeeding and that you do not give it to children. In addition, if you have any concerns, experience side effects, have serious health conditions or are on long-term medication, talk to your doctor before taking this supplement.