Altitude Sickness Symptoms, Causes and Treatment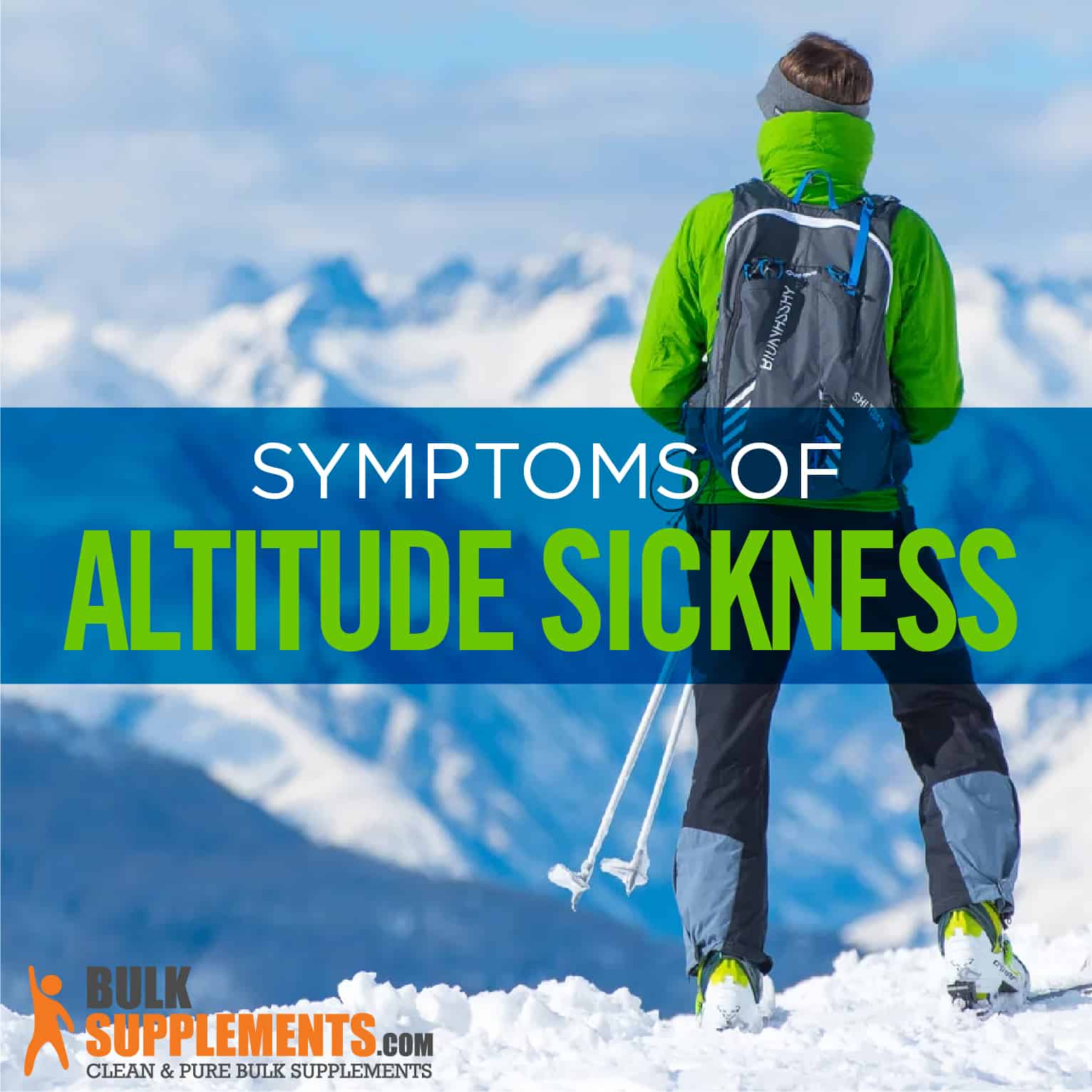 What is Altitude Sickness?
Altitude sickness is a group of conditions and symptoms. It's caused by climbing or hiking at high altitudes without giving the body time to adjust to differences in air pressure and decreased oxygen levels. It can affect anyone at any age, health and athletic ability (x).
Altitude sickness has three forms: acute mountain syndrome (AMS), high-altitude pulmonary edema (HAPE) and high-altitude cerebral edema (HACE).
Acute mountain syndrome (AMS) is a mild form of altitude sickness that causes nausea, headache and fatigue. Those who have AMS are at risk of developing the two more serious forms of altitude sickness: HAPE and HACE (x).
HAPE occurs when excess fluid fills the lungs. The person experiencing it may become short of breath, develop a fever, or cough up foamy spit. A very dangerous condition, HAPE requires immediate medical attention (x).
The third type of altitude sickness, HACE, occurs when fluid fills the brain. It may cause confusion, stumbling, excessive emotion, violence and clumsiness. Drowsiness and unconsciousness are the last symptoms to occur before death, so if you feel drowsy or confused, descend to a lower altitude immediately. Both HAPE and HACE are fatal and can occur simultaneously (x).
What Causes Altitude Sickness?
Ascending quickly to a higher altitude causes altitude sickness. The three forms may develop at any point between days one and five of an ascent.
Dropping barometric pressure decreases partial oxygen pressure, which triggers physiological responses (x). These responses generally help the climber or hiker adapt to environmental changes. However, in most cases, the opposite happens, and they cause one or more of the three forms of altitude sickness (x).
Symptoms of Altitude Sickness
Headache and Nausea
Headache and nausea are two common symptoms of altitude sickness, mainly from AMS. Medications may ease these symptoms for some. To prevent symptoms altogether, climb or hike to higher altitudes at a slower pace to give your body plenty of time to adapt. Staying hydrated and sleeping at a lower altitude can also prevent symptoms (x).
High-Altitude Pulmonary Edema
High-altitude pulmonary edema (HAPE) can occur when ascending 500 m or more per day at high altitudes–anywhere between 2,500 and 3,000 m. It's the most common cause of death related to climbing or hiking high altitudes (x).
One of the first symptoms of HAPE is a nonproductive cough–one that only worsens as time passes. Shortness of breath and breathlessness also occur and persist even while resting, as do a fast heart rate and fever (x). Descend immediately to a lower altitude if you feel any of these symptoms while you're hiking.

How to Treat Altitude Sickness
The best way to treat altitude sickness is to descend to a lower altitude as soon as you notice symptoms. You should also see a doctor as soon as you can. Most symptoms will begin to resolve within 24 hours, but if your headache persists, an over-the-counter medication should relieve it. All symptoms should resolve within three days.
Supplements for Altitude Sickness
Ascorbic Acid/Vitamin C Powder: In studies, rats exposed to higher altitudes responded well to vitamin C supplements. The recommended dose for altitude sickness is anywhere from 500 mg to 10,000 mg a day (x).
Vitamin E and alpha lipoic acid are antioxidants that fight free radicals (unstable, cell-damaging atoms that contribute to illness and aging). Antioxidants have been used in a number of studies to reduce the severity of altitude sickness symptoms. One study monitored an expedition group taking vitamins on Everest; each person took 1,000 mg of vitamin C, 400 IU of vitamin E and 600 mg of alpha lipoic acid daily. During this study, researchers found these daily doses eased the effects of altitude sickness (x).
How to Prevent Altitude Sickness
Researchers have found that the anti-inflammatory painkiller ibuprofen may prevent altitude sickness. In one double-blind, placebo-controlled study of 86 men and women, ibuprofen reduced the occurrence of altitude sickness by 26 percent (x).
You can also prevent altitude sickness by avoiding strenuous activity, limiting your climb or hike to 300 m per day and sleeping at lower altitudes when possible (x).
Reverse Altitude Sickness
Reverse altitude sickness usually occurs when someone quickly descends to a lower altitude after being at a high altitude for a long time. Just like altitude sickness, traveling to a lower altitude before your body acclimates can cause physical discomfort. Most people report mild headaches, fatigue, an increase in appetite and dizziness.
The Bottom Line

Your body needs time to adjust to new altitudes, so always take your time when hiking to prevent altitude sickness. If you're not careful, the condition can worsen and you may need immediate medical attention. Before your next climb or hike, be aware of symptoms and prevention techniques for a safer ascent.*
By: Kelli Beach